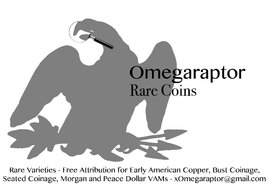 Omegaraptor
Gobrecht/Longacre Enthusiast, Male, 18, from Oregon, USA
I mainly collect Gobrecht coinage. I also collect EAC, medieval, Indian Head Cent varieties, and cherrypick coins from all types. Sep 19, 2018
Omegaraptor was last seen:

Viewing thread Post your SEATED coins., May 20, 2022 at 4:05 PM
Loading...

Loading...

Loading...

About

Interact

Signature

Q: Why did the Buffalo Nickel and Standing Liberty Quarter have to dance with each other? A: Because they didn't have dates.

Q: Why do collector's bison ranches go out of business? A: They paid extra for the ones with three legs.

Q: Why did the collector put Altoids into a Tic-Tac box? A: To make a mint error!
A collector was invited to a friend's barbecue. The friend asked, "Do you want yours raw?" The collector said, "No, I prefer mine slabbed."

Loading...