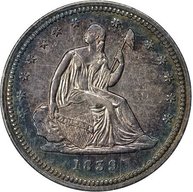 Loading...

Loading...

Loading...

About

I am an ANA life member since 1983 and am assembling a Liberty Seated coinage type set by denomination and major type. I have a few obsolete Capital Plastics 20th Century type set holders I've filled with BU coins plus an eclectic variety of other obsolete and current Capital Plastic holders to house the coins I happen to have a fancy for at the moment.

Interact

Signature

"Sometimes it is entirely appropriate to kill a fly with a sledge-hammer!"MAJ HOLDREDGE

"So they've got us surrounded, good! Now we can fire in any direction, those bastards won't get away this time!"CHESTY PULLER, USMC

Loading...

Loading...